MR Tiles Master
A downloadable tool for Windows
Are you looking for a tool that can help you create game tiles quickly and easily? If so, then look no further than MR Tiles Master! Our software is designed to make the process of creating game tiles a breeze, whether you're working on a game jam project or just need some tiles for your latest indie game.
With MR Tiles Master, you can select two images or two colors and define the borders to create your custom tiles. You can also select from a variety of effects to add depth and style to your tiles. The system then generates the main tiles for a platform game in PNG format, complete with transparency.
But that's not all! In version 0.75, we've added a new experimental feature called "Huge SpriteSheet". With this option, you can generate tiles with different brick options, giving you even more creative possibilities.
In version 0.73, we've also added the ability to save and open files with the .MRTilesMaster extension. This means that your images are saved embedded in the file, and the test map is also saved with your file. Additionally, during installation, the files are associated with the program, making it even easier to get started.
And if you need to take MR Tiles Master on the go, we've also released a portable version that you can use without installation.
So why waste time creating game tiles manually when you can use MR Tiles Master to create them quickly and easily? Download it today and start creating!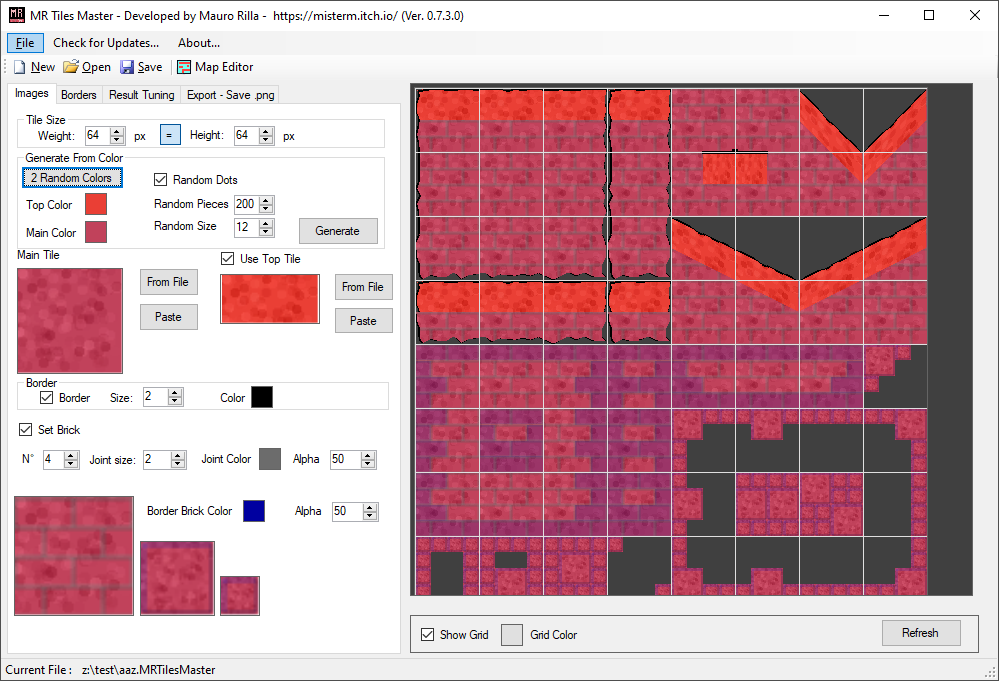 Download
Click download now to get access to the following files:
MR Tiles Master - Setup.exe
2 MB
MR Tiles Master - Portable.zip
943 kB