MRScreenCapture
A downloadable game for Windows
Introducing a comprehensive and user-friendly screen capture software designed to operate seamlessly from the Windows system tray. With its intuitive interface and versatile features, capturing screenshots has never been easier.
Effortlessly capture your screen by clicking on the 'Capture' or 'Snapshot' button, depending on your preference. The software also supports customizable keyboard shortcuts, enabling you to take screenshots without disrupting your workflow.
The captured files are automatically saved in a designated user folder, ensuring that all your screenshots are organized and easily accessible.
This screen capture software is perfect for professionals, students, and anyone who needs to quickly and efficiently document their work. Whether you're creating a tutorial, preparing a presentation, or simply want to save a visual record of your on-screen activities, this software has you covered.
Experience the convenience and versatility of our powerful screen capture tool, and enhance your productivity today.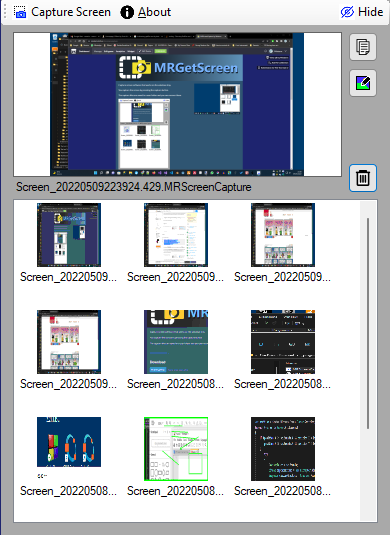 Image Editing Capabilities:
Our screen capture software offers a variety of editing features, allowing you to enhance and customize your images:
Select an area: Easily define a specific area within the image for further editing.
Crop the area: Trim the selected area to remove unwanted portions and focus on the important elements.
Copy the area to the clipboard: Quickly copy the selected area and paste it into other applications for further use.
Add rectangles to the image: Insert rectangular shapes to highlight or frame specific sections of the image.
Add lines to the image: Draw lines to emphasize or connect different aspects of the image.
Add arrows to the image: Utilize arrows to direct attention or indicate a specific flow within the image.
Customize border size and color: Adjust the thickness and color of the borders for added clarity and visual appeal.
Add a border to the picture: Frame your image with a border to give it a polished and professional look.
Take advantage of these editing tools to create engaging and informative visuals for your projects.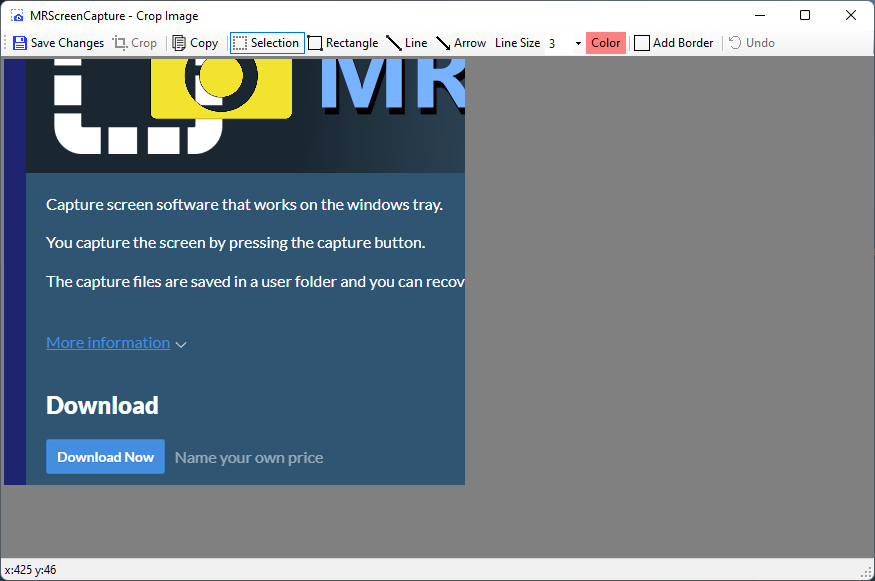 Download
Click download now to get access to the following files:
MRScreenCapture Portable 1.3.zip
130 kB