TreasureNotes
A downloadable Edit Notes for Windows
Welcome to TreasureNotes, the easy-to-use Windows tool designed to help you save and manage your text notes effortlessly. With TreasureNotes, you can create notes quickly and easily, and search for them instantly when you need them.
Using TreasureNotes is a breeze. Simply double-click on the icon on the Windows tray to show or hide the window. Alternatively, you can right-click on the icon to access a menu with various options. The TreasureNotes window is always on top of other windows, making it easy to access your notes at any time.
TreasureNotes stores all your notes in the application data folder of your user account, ensuring that your data is safe and easily accessible. You can even delete a note with just one click using the rubbish button.
The search notes textbox allows you to search for specific text in your notes. So whether you're looking for a quote, a recipe, or an idea, you can easily find it in seconds. No more rifling through stacks of paper or scrolling through endless text files!
In addition to being user-friendly, TreasureNotes is also lightweight, meaning that it won't slow down your system. It's the perfect tool for anyone who wants to keep their notes organized and accessible.
So why wait? Download TreasureNotes today and start organizing your notes like a pro!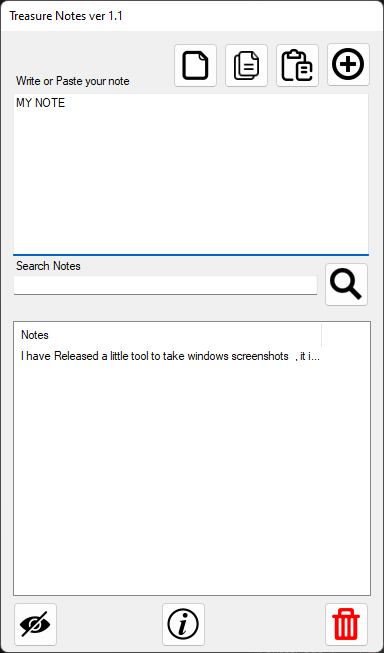 Download
Click download now to get access to the following files:
TreasureNotes Portable 1.1.zip
432 kB